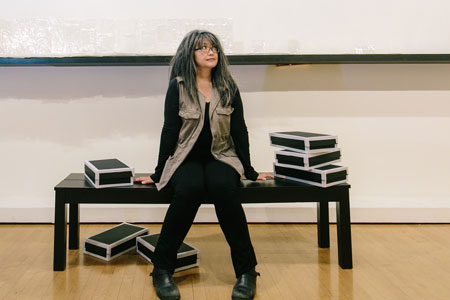 C.K. Itamura is an interdisciplinary artist, designer and producer. Her work responds to a wide range of personal and social content; and is realized as richly engaging, metaphorically layered, participatory, conceptual installations. C.K. is Director of Marketing and Events for San Francisco Center for the Book and a board member for Healdsburg Center for the Arts.
Her most recent work s+oryprobl=m is a three part series of exhibitions which may be experienced at: O'Hanlon Center for the Arts, Loft Gallery in Mill Valley (June– July 2017); The Spinster Sisters in Santa Rosa (April–June 2017), and City Hall Council Chambers also in Santa Rosa (thru May 4, 2017).
We chatted over an early evening cup of tea in mid April.
Whirligig: You are making and exhibiting complex, multi-layered, series of works that are highly metaphorical and cross media distinctions. How would you advise new art audiences to approach and experience your work? What do you hope people will "get" from experiencing your art?
C.K.: I'll use my piece Ladies (2015) to illustrate your point.
Ladies was inspired by a surreal hours-long conversation I had one afternoon in 2013, with two strangers in an art gallery. One woman was a retired physician with crutches, the other woman was an art patron that I've seen at artist receptions but had never spoken with before. Over the course of the afternoon, the retired physician revealed that she wanted to die because her crippled legs prevent her from doing all the things that hold joy for her, such as hiking, swimming and traveling. The art patron revealed that she had lost all of her money and was now living in a van that she had to park in a different place every night to prevent getting into trouble with the police. After the conversation concluded when the gallery closed for the day, I wrote down notes that would remind me of this curious encounter. Two years later, the notes evolved into Ladies, a wall mounted sculpture in the style of a mini-dress that Tina Turner wore on stage during a performance with Mick Jagger on the British stage of the Live Aid Concert in 1985.
Ladies is constructed of torn paper grocery bags; it is a bag dress that suggests the phrase "bag ladies," term recalled from childhood that was used to describe seemingly homeless women who kept all their belonging in bags they carried with them, from place-to-place, at all times. Ladies is symbolic of contrasts: the facades of the retired physician and the art patron vs. a hidden desire to die and destitution; the opulence of Tina Turner's memorable performance during a come back era of her career vs. the desperation of forgotten "bag ladies." Excerpts from the notes I wrote after the curious conversation were written on the paper bag sections in pencil then selected words were traced over in permanent marker. In a final nod to another lady, my maternal grandmother, who hung laundry outside, rain or shine, the inside of the piece is filled with wooden clothes pins that are not plainly visible from the outside, as my grandmother was rarely seen away from her home.