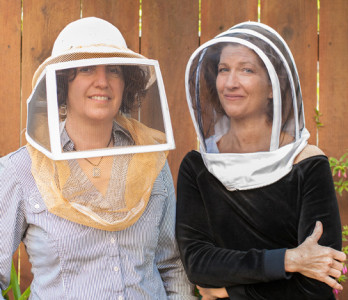 Glenna Cole Allee (right) and Victoria Mara Heilweil (left) make up the collaborative curatorial project known as MicroClimate Collective. The exhibitions they produce are thematic (Hypnagogia, Wabi Sabi, Night Light, Chance Operations, Unseen Unsaid, Everything Must Go!, Eidolon, Perfect Place/No Place, X Libris, A.D.D.) with strong considerations for the nuances of layered meanings within the language of the title, and appear to seek unexpected, if not surprising, interpretations across creative genres.
MicroClimate has a focus of interdisciplinary visual and performing arts programming which provides a context for cross-pollination between diverse circles of Bay Area artists. Their mission is to foster experimentation, collaboration, and risk-taking in an atmosphere free of commercial pressures.
Within this entity they have curated eleven multi-disciplinary exhibitions during the last seven years. They are currently preparing their twelfth, Obsidere which opens at Alter Space Gallery (San Francisco) on May 9.
Glenna and Victoria are both exhibiting visual artists, often working with photography. We chatted in late January in Victoria's Mission District flat.
Whirligig: Individually, how did you come to be an artist?
Victoria: I started off doing film and video work while I was in high school and majored in that in college. While in college I also took quite a few photography classes, which is where I discovered that I loved all media that utilized a frame. I made an experimental film in college, and also did some less than traditional photography. I think I knew then that I wanted to be an artist, but feared that I wouldn't be able to support myself and so didn't immediately call myself that, or move in that direction. Out of college I worked first in the feature film industry in editing, and then in the commercial photo industry as a photo assistant and studio manager. While working I was still doing my own personal photography work, and it became apparent that I wasn't cut out to be a commercial photographer. At that point I committed to getting my MFA and being an artist. I would say that it's only been the last ten years that I have been really actively showing my work and moving my art career forward.
Glenna: I certainly tried not to. This fact of who we are, as artists, seems to be a wider circle that persistently swallows whatever other circles we draw. I tried to do other things and deny it but it wouldn't leave, this predicament, "artist." I have become better at putting parentheses around the resistance and the doubt. Recently I've been inhabiting a certain excitement and deep joy in working consistently, as well as a daily sense of appreciation for being able to make, and give time to, my work.
Whirligig: How did you come to be MicroClimate Collective and how do you think of yourselves inside of this entity?
Victoria: I had a friend who was the Artistic Director for the Climate Theater on 9th and Folsom Street. It was a small theater that had been around a while, but when she took it over she had a vision of it having other programming than just theater. She invited me in to check out a space she thought could work for visual art and asked me to tell her what could be done there. I gave her some suggestions and then she asked if I would run it. I had been doing some curating as part of my teaching at City College of San Francisco, but was definitely interested in doing more curating outside of that arena so I said yes. Very quickly I realized I needed help with this and invited Glenna and another artist to join me.
I knew Glenna from showing her work in the student gallery at City College. There was also a music series and a film series at the theater. The three of us joined forces with the three film series curators to put on one night shows that took over the whole floor. We showed all different media including music, performance and spoken word. It was exciting, but very tiring and eventually the other curators left to go on to other pursuits leaving just Glenna and I. We had decided after a few years that we wanted to start looking for other spaces to curate our thematic shows, and to have them last more than one night. Right about that time the Climate Theater lost their lease and closed, which forced us to move on.
I think of myself as one of the co-founders and primary co-curators of MicroClimate Collective. Glenna and I each have different strengths and wear different hats, although we can switch off if needed.
Glenna: I was just finished with an MFA and there was Victoria, beckoning. The MFA experience I'd just finished had been transformative–the constant company and critique of others who understood art as the main focus, having everything needed right there. I wanted to actively sustain dialogue and community, and this curatorial project seemed like a possible way. It was very interesting, to create a project together to try to foster creative community–the multi-genre shows might become a conversation between artists. That was one main motivation that drew me–the notion that MicroClimate might initiate work, and even collaboration between artists. It's been a very satisfying thing, that we have inspired others in this way a little bit.
How I think of myself within MicroClimate: as an artist, with all my personal aesthetics and sensibilities, working intentionally to be a creative collaborator. Which entails seeking to meet halfway, and to be receptive/inviting to the third thing in the room, to what would not be created alone.
I often am in the role of filtering our ideas into language, of pushing to articulate our themes, and sometimes raveling them into little knots and back out again. I find this interesting; actually enjoy it.
(more…)