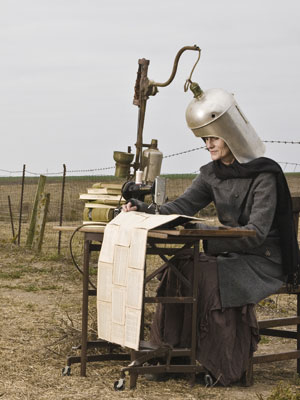 Santa Cruz based artist Jody Alexander is known for creating complex characters whose narratives are revealed through an array of artifacts which almost always include handmade books and are often exhibited as interactive art installations.
Her work celebrates collecting, storytelling, and odd characters.
Alexander has just completed two solo exhibitions: Jody Alexander: Sedimentals at Mohr Gallery in Mountain View, California; and The Odd Volumes of Ruby B.: An Installation at Saffron and Genevieve in Santa Cruz, California.
In the first half of 2011 Alexander's work was included in: The Art of the Book at Donna Seager Gallery in San Rafael, California; The Book: A Contemporary View at Delaware Center for the Contemporary Arts; Reconstructions at Conrad Wilde Gallery in Tucson, Arizona; Encaustic with a Textile Sensibility at Kimball Art Center in Park City, Utah; and Masters: Book Art published by Lark Books.
Alexander has a BA in Art History from UCLA and a MS in Library Science from Simmons College in Boston.
Whirligig: How did you come to be interested in the book as an art object?
Jody: While working on my Master's degree in Library Science in Boston, Massachusetts. One of my professors took our class to Harvard's Houghton Library. He began by showing us medieval manuscripts: Book of Hours, Gutenburg Bible, Nuremburg Chronicles amongst others. Obviously, this was very exciting to examine these treasures up close, but then he started taking out artists' books. I don't think I had ever seen an artists' book before, and if I had, I wasn't really aware of them as a genre of art. I think that I couldn't breathe for a little while. I had one of those moments when everything suddenly made sense and it was clear that this is what I wanted to do. I proceeded to do every remaining project in Library School on artists' books: their history, collecting them, storage and preservation of artists' books, etc. As soon as I graduated I started to make them.
Whirligig: Tell us about the first book you made.
Jody: When I was about eight or nine I know I made some small books. I used to draw a hillbilly family and type out their story on my green portable Sears typewriter. These eventually became little books. I'm not sure how I bound them. They were just little pamphlet books. They no longer exist.
Whirligig: I sense that you are seduced by your media. Can you talk about your attraction to materials and processes and how these manifest in the completed works.
Jody: I love stuff. And, have been a collector since I can remember. These items that I gather are often the inspiration for my pieces. My process, and loving my process, is very important, as well. I crave the work, particularly stitching, and get cranky if I haven't been in the studio working with my hands for a few days. Kind of like an addict, I suppose. There are many unrealized pieces in my head that I never made because I knew I wouldn't enjoy the process or working with a particular material. And, the flip side of that is, I suppose, that I enjoy playing with the materials and processes that I do like, and that play leads to new discoveries and ideas.
Whirligig: Many of your works involve characters whose inner lives are embodied in the book aspect of the work. How do these individuals reveal themselves to you?
Jody: It usually starts with items that I collect and I gradually see that they belong together. And, maybe there is space for a little hand-bound book in the front or back of the box, or in the drawers, or some other space. Then the person who owned these items starts to emerge. Sometimes it is slow and I often start working on the piece before I really know much about that person. Occasionally, I continue to discover more about them long after I have completed the piece. The "why" of my characters takes a while to reveal itself—that is, why are they making these books and objects. What has happened in their lives that has compelled them to do this? Once the "why" has revealed itself then I can move on to other details.
Whirligig: How did you come to meet Ruby B.?
Jody: I was just coming out of a period of time when I was exhibiting quite a bit and realized I needed to pull in and just work in my studio for a while. Some materials I had been working with were suggesting a new character but I wasn't sure who the person was. Then I found an old traveling dental case with drawers— I immediately knew that this belonged to my new character. Her name came to me and it stuck, and then I started playing around with old photographs, old book pages and using stitching as imagery and eventually a signature style emerged. It took a while before she told me "why" she was making these books—but it eventually came. I wanted to make a book for each drawer (ten) in the dental case and this seemed like a perfect project for me to pull in from my previously hectic exhibiting schedule.
I had an intense need to work in the studio, bind books (which I hadn't been doing) and keep them to myself. I wasn't sure that I was ever going to show them to anyone—this didn't seem important and wasn't their purpose. However, after working on them for an entire summer, and after Ruby had revealed more of her story to me, I started to envision her live/work environment. Before long I was making wall pieces and other objects that were hers. Then one day, a curator was in my studio and saw some pieces and wanted them for a show, then another person saw them in the show and offered a space for me to install her room. I wasn't sure I was ready to let Ruby out—but in retrospect it allowed me to work on her intensely and create more of her things than if I had kept her to myself. Now, I'm preparing to install her room for a second time and she is continuing to tell me more about herself. I enjoy working on Ruby B. more than any of the other series I'm currently working on. She is funny, dark and endlessly surprising and entertaining.
Whirligig: Do you see aspects of yourself in Ruby B.? Is she your alter ego or are you projecting or ?
Jody: While working on my characters I never consider that they have anything to do with me. But, in retrospect, I always see a bit of myself in their story and realize "oh, that's what that was about."
Whirligig: Are you considering possible relationships between collecting and hoarding?
Jody: No. My characters collect. They don't hoard. My characters carefully gather and meaningfully arrange their treasures.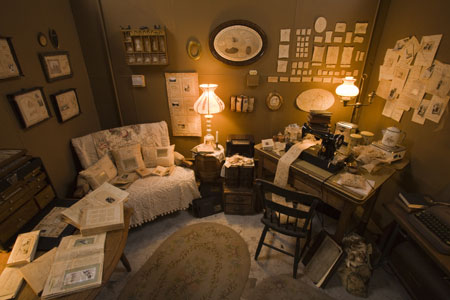 Whirligig: Many of your books are filled with delicate and cryptic handwritten script. Talk about this code.
Jody: Lost languages have interested me for years and I used many of them in my early bookworks. Then I decided it was time to make my own indecipherable language. I was inspired by Max Ernst's automatic writing, started playing around, and came up with a fictitious language that I named Max (it is called Maxine when I stitch it—the feminine version). Since then many of my characters have written in their own calligraphic language.
Whirligig: You are recognized as an accomplished artist. Where are you confident and where are you insecure in your practice?
Jody: I am most confident in my bookmaking. My books, though, have led to other kinds of art: free standing 3D and wall art. At first, I wasn't comfortable at all with making art in any other form than books. Books are a personal media. There is a pre-disposed understanding before someone picks up a book. They want to look at it and they are in a mental place to give the book the attention it deserves. With wall art or sculpture anyone can walk by, no matter what their mental state or sensitivity, and glance at it and quickly judge. I think that is why many artists' books contain very personal content— it is a medium that the artist is comfortable presenting it in. I am becoming more and more comfortable working in non-book form but if my pieces or installations don't include books then they don't make sense to me.
Whirligig: Sewing, both machine and by hand, is a strong element in your work. Did sewing come before book making?
Jody: I sewed a lot when I was young starting in grade school and took sewing in high school and made a lot of clothes. I didn't really pick it up again until I started making books.
Whirligig: Talk about your wearable art and performance work? Have you been doing these long? What are the narratives and how do these relate to the book work?
Jody: The Mothercraft is the only wearable/performance piece that I have done. She was a character that I had in mind for an installation and while mulling over her story an opportunity came up to do a Fashion Show using recycled materials. It seemed a perfect opportunity to develop Mothercraft. The performance was a challenge, most definitely outside of my comfort zone. I could have gotten a model to do it but since I had fitted the piece to myself (a dress with ceramic shards and rusty metal sewn to it) and had a clear idea of what I wanted her to do on stage I decided to do it myself. In a later, and bigger, event I had a model (who was also an artist/dancer/performer) walk the catwalk, and I directed her. It was a new experience seeing one of my characters come alive and is something I would like to see happen again in some way.
Whirligig: What do you consider Maxine Dresses Up for the Silkworms and how did this project develop?
Jody: It was conceived as an installation but it never came to be except in the studio. The dresses were exhibited against a wall at an event and two ended up selling so it will forever be an unrealized installation. It developed, like many of my projects, through experimentation. I wondered if I could make a dress out mull (bookbinding material used on spines of books) and set out to do it. The decorative stitching on them is calligraphic drawing—a fictitious language I have been writing for years.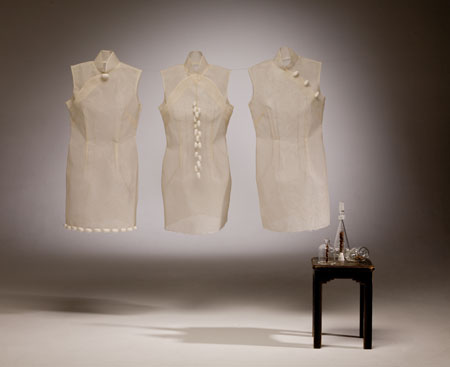 Whirligig: You juggle multiple careers as a librarian, as a teacher, and as an exhibiting artist. How do these roles play out in your life. What is need and what is want?
Jody: Want is to make art, exhibit art and curate art. If I could, that is all I would do. Need is working as a librarian and teacher to afford life. Although, my work (both as a librarian and teacher) usually feeds my art at one point or another. Something always happens in a class that gives me an idea, and working in the library gives my mind a rest from the studio so I can return with a fresh eye and a craving to work.
Whirligig: The book has played a primary role in recording and shaping the human experience. Can you talk about the significance of the book, past and present?
Jody: Most books live a lot longer than people. They carry our voices from generation to generation. Although, now they are being partially replaced with digital versions I'm confident that printed and bound books will live on. In the library where I work we have many titles in electronic form and when helping students find a book they usually look at me and say "don't you have any real books" on that subject? They still want something that they can hold and put in their backpack and take home.
Whirligig: Even though many highly successful artists have book art projects, book arts continue to be somewhat marginalized. Do you think book arts will ever be regarded as high art media?
Jody: It seems that in the last five years or so I have started seeing more and more book art mixed into main stream exhibits at major museums and in books about artists. I am seeing more and more book art classes and degree programs at colleges, too. As long as up and coming artists are being exposed to book art as a possible medium for their work we are going to see more and more book art mixed into the main stream.
Whirligig: Is recognition of book arts as high art media even important?
Jody: I don't know if it is important but I know I'm always excited to see a book in a major exhibit or in an art book on a major artist. For instance: the gorgeous lead books, and burlap and tar books by Anselm Kiefer; the fabric books I just saw in a new book on Louise Bourgeois' fabric work; books by Kiki Smith; William Kentridge's altered books. It is a medium I love to see artists explore.
Whirligig: How would you describe the genre of artists' books to a novice?
Jody: Art that takes book form that is totally realized by the artist from concept, to printing, to binding.
Whirligig: How would you explain your work to a curator at a major museum?
Jody: When explaining my art I usually start out by saying that I am a bookbinder. This seems to catch their attention because most people think that bookbinding is such an archaic, medieval and odd thing to do. Then I follow by saying that I combine other objects with my books to make mixed media pieces and installations—but that they are focused around books. I'm not sure if I would take the same approach with a curator from a major museum—but I might.
Whirligig: As you know, making a living as an artist is both a challenge and relatively uncommon. What advice do you have for someone who is serious about this pursuit?
Jody: I read something recently about an artist who said she was given the advice to never take a job that she couldn't walk away from. I have done the opposite and that is I always had jobs that I needed to keep in order to pay the bills and art was something I developed outside of those hours. This has afforded me the luxury to make whatever art I want—not something that I am concerned about selling. Selling is not what comes to mind when I make art—and when it does happen to sneak in, it doesn't work. Everyone has a different situation and they need to find their own balance and comfort zone.
Whirligig: Who inspires you? What artists and makers are you looking at?
Jody: Outsider Artists that made books inspire me endlessly: James Castle, Henry Darger and Adolph Wofli. As fairly uneducated men, their artmaking in book form was pure and primal—something they had to do. They were compelled to make books and it seems they did so for themselves— their books were not objects that were made to be seen. I can relate to them since I am also compelled to make books. Other artists I am currently looking at are Eva Hesse, Joseph Beuys, Louise Bourgeois and Margaret Kilgallen.
Whirligig: I can see the relationship between your aesthetic and that of Eva Hesse, Joseph Beuys, and Louise Bourgeois. Margaret Kilgallen's aesthetic is quite different. What is it in her work that is engaging you?
Jody: It took me a while to figure out my sudden fascination with her, but it is so obvious to me now. The figures that she drew remind me of the characters I used to draw when I was little: big lips, buck teeth, knock knees, clunky shoes. I have also always loved drawing letters and spent much of my class time in high school and college doodling letters in different block styles. So, there is a connection to much of her image making. Also, she moved to San Francisco to learn letterpress and ended up learning bookbinding while working at the San Francisco Public Library. Many of her drawings are on endsheets from old books with stains and notations on them —so, I obviously connect with her book loving aesthetic. What I am looking at now in her work is the placement of letters, images, framed pieces, drawings on wood, and the objects in her installations. It looks so random and easy but it is not—everything is perfectly placed—she had a great eye.
Whirligig: Your most recent work utilizes furniture and conjures landscapes. The way the books are embedded in these objects speak of histories and archaeology—stories lost and waiting to be discovered. Talk about how this work developed and what you are thinking about making it.
Jody: The Sedimental series started with some studio playtime where I was looking at some of my old wooden boxes and I envisioned books embedded in layers of fabric—looking like Sediment. So, I set out to try to do that—it took some trial and error to figure out what material to use (I ended up using cotton batting that I had been using for the last year or so and had a lot sitting around the studio). As I was working on these pieces I got the feeling that I was preparing these books for burial. A couple of movies I had recently watched, that dealt with preparing the body for burial, the ceremonies surrounding death, and material objects, came to mind. I really tried to stay away from a character theme with these pieces but while working on them I couldn't help but think "who would do such a thing as this?" I started to see a person shuffling around their house preparing his/her beloved objects for a time when he/she could no longer take care of them. He/she is wrapping books and placing them in layers of fabric not only for safe keeping and protection but as a way to deal with what is to come. This person isn't necessarily preparing for death but rather for any number of ways a person can disappear. I want to leave that conclusion up to the viewer. It is also important to me not to name this character or give this person a gender—it needs to be vague. . . dreamlike. . . ghostly. . .
Whirligig: As long as I've known you, you've resided in the Santa Cruz area. What about this region is suitable to your lifestyle?
Jody: Before moving to Santa Cruz, I spent over a decade on the East Coast: New York City and Boston. And, before that I lived in San Francisco. So, moving to Santa Cruz was a bit of a change and culture shock. It took me a while to get used to the brightness of the sun in the winter. But, once I settled into Santa Cruz and began to meet some of the artist here I realized I had landed in a unique place. Santa Cruz is filled with natural beauty, liberal minds, and artistic and free-spirits. Sometimes too much of any of these things can be hard to take but for the most part I am very comfortable here. Sometimes too comfortable and I crave cities so I tend to vacation in New York, Boston, L.A., and take day trips to San Francisco.
Whirligig: What questions do you ask yourself that are difficult to answer, and why are they challenging?
Jody: Why do I make art and what is the point? Sometimes it seems like a very self-involved activity and, I suppose it is. I make art because I have urges to, and I get cranky if I don't. And I justify and reason with myself that it does, occasionally, entertain and make other people happy as well as, also occasionally, help pay the bills. Those are the answers that I come up with when that pesky voice presses the issue. But, mostly I just make art because I have to.
---
Whirligig Interview by Nanette Wylde.
Jody's website: www.jalexbooks.com
Images from the top: The Artist in Her Studio; Eleven Exposed Spines, 2010; The Odd Volumes of Ruby B., 2009; The Odd Volumes of Ruby B., Installation, 2010; Maxine Dresses Up for the Silkworms, detail; Maxine Dresses Up for the Silkworms; Miss Sook's Dropsy Cure Remained Unbeknownst to Most, 2006-2009; The Flight Of Mrs. Viola D. Pigeon, 2003; Sedimental, No. 9, 2011. Photos by r.r. jones and courtesy of Jody Alexander.