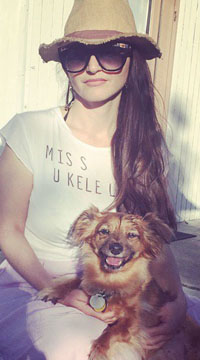 Angelica Muro is an integrated artist, curator, and art educator with a strong interest in cultural criticism. Originally from the Central Valley agricultural community of Hopeton, California, Muro grew up on an apple orchard. As a child she became interested in photography, media imagery and popular culture. Muro served as Gallery Coordinator for WORKS/San José for five years, and as Educational Programmer for Movimiento de Arte y Cultura Latino Americana (MACLA, San José, California) for three years. She has a B.A. in photography from San José State University, and an MFA from Mills College in Oakland, California. She is currently Director and Chair of Visual and Public Art at California State University, Monterey where she teaches courses in photography, integrated media and media culture.
Her newest project, created with Juan Luna-Avin, Club Lido: Wild Eyes & Occasional Dreams opened February 12 at Empire Seven Studios in San José. We chatted over tea in early January, at Angelica's Japantown (San José) bungalow. Reina Sofí­a, Angelica's eight-year-old rescue pup, sat on her lap.
Whirligig: How did you come to be an artist?
Angelica: I've been interested in art since I was a child, but I was never really good at making—I suppose my vision never matched my actual skill set, it still doesn't. I remember always trying to make things such as sculptures and drawings, but never having the dexterity. Photography came into my life very early—my fourth grade teacher, Mrs. Dixon, had a pile of National Geographic magazines I was pointed to whenever I finished my assignment early—this was the first time I was truly able to look at images, photographs, people. Since then, it's become my primary area of interest, socially and culturally.
Whirligig: The first time you were able to look at images or that you became aware of the power of images?
Angelica: Aware of the power, of ways of seeing, of actually looking. We are so visually saturated, so much so that we are not actually seeing. I read recently that the brain is on a need-to-know basis. Our brains store the information in our environment and we don't actually see it, even as we know it is there.
I very vividly remember looking through these National Geographics and seeing, seeing things that I had never seen before. It was new information. This is why travel is so exciting, it's overwhelming new information for us that we are absorbing in a completely different way, and we take that absorption as being creative influences.
Whirligig: Much of your work exploits and reveals the tensions between consumer celebrity culture and the realities of working class and immigrant lives in contemporary America, perhaps even specifically California. Who do you see as your audience for this work and what do you hope it achieves?
Angelica: I don't often think about audience in the traditional sense; although as an educator, I often address ethical concerns involving audience with my students. I happen to live and work in California, so my work deals with the complexities of this eco-system—the spectrum of productivity, exploitation, and the distribution of wealth—and often explores issues of gender, race, and class. I'm interested in social issues, and I find that visual tension inspires me to create.
I think there's several ways to think about audience—I remember being in graduate school, a time that allowed me to experiment with ideas with a critical, yet limited audience. Suddenly, I had a body of work about being Latina, being a woman, being the daughter of a farmworker, and navigating social constructs. And then my audience became people who where interested in issues of identity. However, my work deals with larger social issues of equalization, socialization, conditioning, and the various codes of gender identification. It's a dialogue with my community, my artist cohort, scholars, thinkers, curators, and activists who are interested in issues of positionality and privilege. I suppose that in the simplest and most complicated sense, my audience is one interested in issues of difference, otherness, and diasporic culture. I question ideological frameworks of meritocracy, social mobility, and distribution of wealth, because I want to, in small part, be in dialogue with someone, anyone, interested in discourse about the complicated social structure we live in.