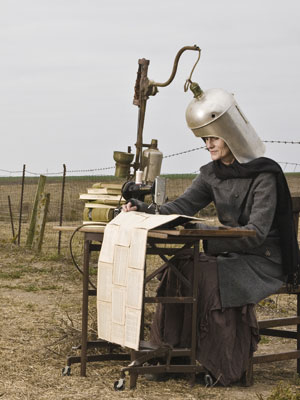 Santa Cruz based artist Jody Alexander is known for creating complex characters whose narratives are revealed through an array of artifacts which almost always include handmade books and are often exhibited as interactive art installations.
Her work celebrates collecting, storytelling, and odd characters.
Alexander has just completed two solo exhibitions: Jody Alexander: Sedimentals at Mohr Gallery in Mountain View, California; and The Odd Volumes of Ruby B.: An Installation at Saffron and Genevieve in Santa Cruz, California.
In the first half of 2011 Alexander's work was included in: The Art of the Book at Donna Seager Gallery in San Rafael, California; The Book: A Contemporary View at Delaware Center for the Contemporary Arts; Reconstructions at Conrad Wilde Gallery in Tucson, Arizona; Encaustic with a Textile Sensibility at Kimball Art Center in Park City, Utah; and Masters: Book Art published by Lark Books.
Alexander has a BA in Art History from UCLA and a MS in Library Science from Simmons College in Boston.
Whirligig: How did you come to be interested in the book as an art object?
Jody: While working on my Master's degree in Library Science in Boston, Massachusetts. One of my professors took our class to Harvard's Houghton Library. He began by showing us medieval manuscripts: Book of Hours, Gutenburg Bible, Nuremburg Chronicles amongst others. Obviously, this was very exciting to examine these treasures up close, but then he started taking out artists' books. I don't think I had ever seen an artists' book before, and if I had, I wasn't really aware of them as a genre of art. I think that I couldn't breathe for a little while. I had one of those moments when everything suddenly made sense and it was clear that this is what I wanted to do. I proceeded to do every remaining project in Library School on artists' books: their history, collecting them, storage and preservation of artists' books, etc. As soon as I graduated I started to make them.
Whirligig: Tell us about the first book you made.
Jody: When I was about eight or nine I know I made some small books. I used to draw a hillbilly family and type out their story on my green portable Sears typewriter. These eventually became little books. I'm not sure how I bound them. They were just little pamphlet books. They no longer exist.

(more…)