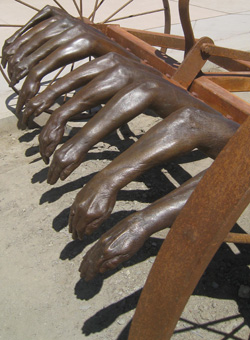 Bay Area artist Valerie Raps recently completed a public art commission for the Alum Rock History Corridor Project.
Cultivating Community is a life-size, stylized spring tooth harrow created from fabricated steel and cast bronze. The tines of the harrow are made from casting the arms of ten San Jose community members. The sculpture is located at Tropicana Shopping Center in East San Jose.
Raps has a MFA from San Jose State University and a MA in Holistic Counseling from JFK University. She is also the Resident Curator of Art Ark Gallery in San Jose.
Whirligig: You recently completed a commission for a sculpture for the Tropicana Shopping Center. Tell us about this project.
Valerie: The project was commissioned by the City of San Jose Office of Cultural Affairs in collaboration with Don Imwalle, who is the property owner of the northeast corner of Tropicana Shopping Center on King and Story Roads in San Jose.
About three years ago the city put out a call for participation for submissions to be part of an artists catalogue. They selected 30 out of 300 applicants for this catalogue which was then made available to developers who build commercial and residential spaces. I was one of three artists to present proposals for a public art project for the Tropicana Shopping Center. The site is part of a larger project called the Alum Rock Cultural History Corridor, an area in East San Jose which has pinpointed several locations for public funds to commenorate the rich and diverse history of the area.
(more…)