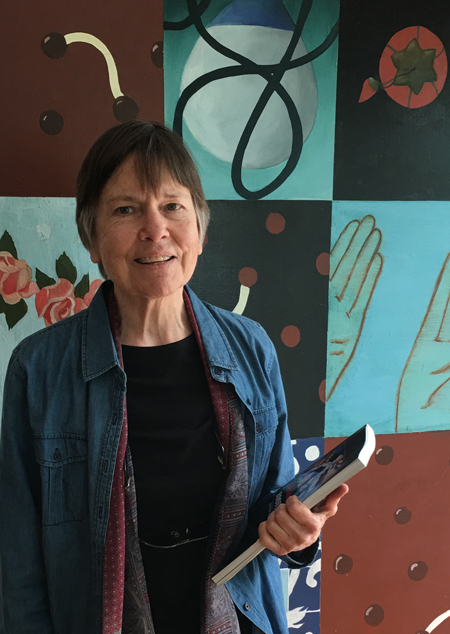 Jan Rindfleisch is an artist, educator, writer, curator and cultural worker. She was the executive director of the Euphrat Museum at De Anza College in Cupertino for 32 years. During that time Rindfleisch laid the groundwork for an engaged and inclusive museum environment by continuously tapping the diverse local voices of Silicon Valley. Rindfleisch continues her work as a community builder with Roots and Offshoots: Silicon Valley's Arts Community, a history of the art of the greater South Bay area from the post-Mission era artifacts of our First Nation peoples to the artists and activists that have made the western/southern half of the Bay Area the rich and vibrant scene it is today.
Rindfleisch has a BA in Physics from Purdue University and an MFA from San José State University. Her awards include: Silicon Valley Business Journal Women of Influence (2014); San José City Hall Exhibits Committee (2006–2013); The ABBY Awards (2010); Silicon Valley Arts & Business Awards; Arts Leadership Award; Santa Clara County Woman of Achievement, (1989); Leadership Vision Award in the Arts, Sunnyvale Chamber of Commerce (1993); Civic Service Award, City of Cupertino, Cultural Arts, and the Asian Heritage Council Arts Award (1988).
Whirligig: What was the impetus for you to write this book?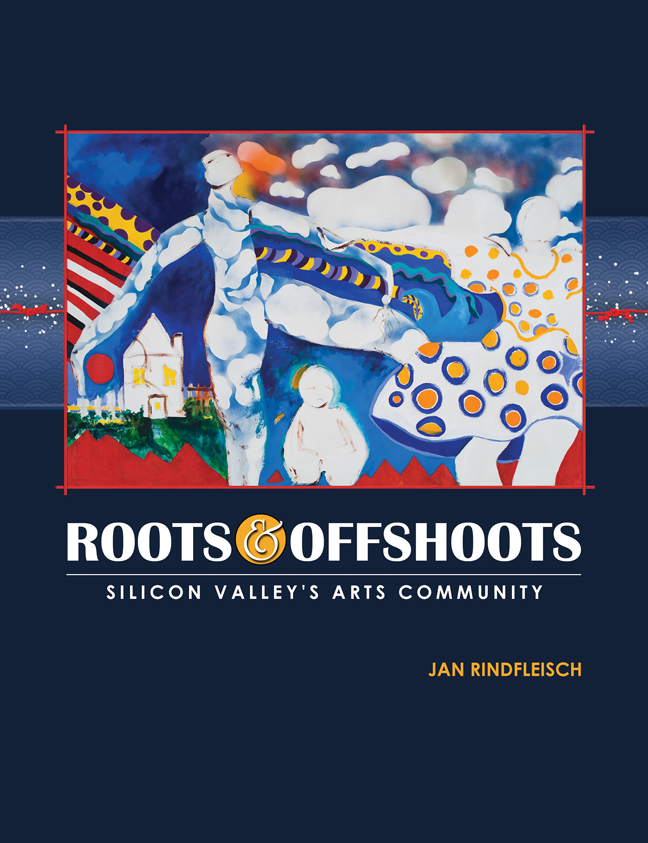 Jan: I am one of those people that love to question boundaries. I started thinking: How did we get past the exclusion in the art world in the monochromatic 1970s, which didn't reflect the breakthroughs of the 1960s, such as women's rights and civil rights? How did we take that early cultural landscape, break new ground, and build new forms for the future? After decades as an arts museum director and a lifetime career as an artist, author, community advocate, and educator with an earlier background in the sciences, I decided to put some of the explorations and findings together.
My book and project Roots and Offshoots: Silicon Valley's Arts Community begins with an essay entitled The Blossoming of Silicon Valley's Arts Community and a profile of artist/activist Ruth Tunstall Grant. A Spiral Through Time follows threads between the ancestral Muwekma Ohlone, Juana Briones in the 1800s, Marjorie Eaton and her arts colony in the 1900s, and artist Consuelo Jimenez Underwood today. Over a period of years of research and writing, the book grew to about twenty profiles and two additional guest essays; one by Maribel Alvarez about MACLA, Doing that Latino Art Thing, and the other by Raj Jayadev about Silicon Valley De-Bug, The Anatomy of an 'Un- Organization.
There are people in Silicon Valley connected with incredible history, but their story isn't being told. Their experiences tell a different story of who we are. Origins of organizations are often forgotten or rewritten, and the originators erased. How can one or a few names stand for an organization/period/idea and the rest be forgotten? How does this erasure affect our view of ourselves as creators and as being worthy of judging or promoting art, or taking a larger role in our community? I wanted to add some of these missing pieces that contribute to a richer story of Silicon Valley's art scene. Frustration with systems can be a motivating force. Another big personal motivation was gratitude. This book is a way to thank so many people who paved the way and with whom I worked.
Whirligig: The Bay Area is deeply rich in terms of cultural diversity and creative output. How did you determine which groups to represent, likely knowing that you could not include them all? Who was left out? Will there be a second volume?
Jan: The book is not a survey of the South Bay Area scene. I wanted to tell the story of the trailblazers who truly made a difference in Silicon Valley, and to provide broader historical context for their experience. A major/shared motivator was to share with the reader how the artists/activists in this book enrich us personally. The artists/activists open us to the art of daily life, and to the artist within each of us. They get us to examine ourselves, to question our lives, and to think freely. They inspire us to dream and imagine and effectuate change—to build connections (not walls!) and enliven our communities.