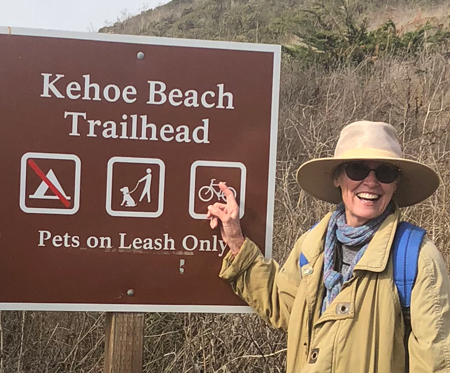 Judith Selby Lang's website states that she "is an artist committed to the creation of positive symbols and life-affirming images to help energize the conversation about social, political and environmental issues." This is a perfect description of the uplifting and transformative nature of her multi-dimensional art practice as well as a reflection of her demeanor and personality—creative, positive, life-affirming, energetic, and openly communicative about critical concerns that affect us all.
Lang's work includes artist's books, mixed media objects, and a wide range of projects using plastic debris collected from 1000 yards of one beach on the Northern California coast. Lang has an extensive exhibition history. She currently has a large scale beach plastic installation in The Secret Life of Earth: Alive! Awake! (And possibly really Angry!) at the American Visionary Art Museum in Baltimore, Maryland; and will be showing in The Great Wave: Contemporary Art about the Ocean at the Bedford Gallery in Walnut Creek, California in early 2020. Her current project is creating a wedding dress made from recovered plastic bags for exhibition in Castaways: Art from the Material World at The Bateman Foundation in Victoria, British Columbia, which opens in Spring of 2020.
Lang has a BA from Pitzer College and an MA in Interdisciplinary Studies in Creative Arts from San Francisco State University. She spent many years teaching art in a variety of North Bay (California) venues before turning her focus to the studio full time. With a barn full of beach plastic—washed, sorted and boxed—collected over the years, Lang has an immense body of work, both independent and collaborative, which reflects our times while engaging viewers from all walks of life in conversations regarding possibilities for improving our environment.
We visited on a bright fall afternoon in her rural Forest Knolls studio, just a short drive to Kehoe Beach.
Whirligig: How did you come to art?
Judith: Defining myself as an artist was a long time in coming. I thought I would never have the patience to be an artist. People have this preconception that art is a wild and spontaneous activity but don't know that after the flash of inspiration sometimes a long and tedious effort is required to realize the vision.
I grew up in a family that was art friendly. My dad and mom both painted. We went regularly to the art museum. In 1962 my parents took me to the Dallas Museum of Art where I saw Andrew Wyeth's painting That Gentleman.
The painting drew many to the museum—there were long lines with stanchions and velvet ropes to control the crowds. Was it because curious onlookers wanted a glimpse of a painting of a black man? Mind you it was a simple scene of a black man seated, in dusky light, in a moment of repose. It's of Wyeth's neighbor Tom Clark. To me it seemed a radical move for the museum to exhibit a painting of a black man especially at a time when segregation still existed in the South. I remember water fountains with signs for whites only, for blacks only. This was 1962, years before the Voting Rights Act of 1965 and the Civil Rights Act of 1968. Perhaps it was the shock to the public that the museum had purchased the painting or maybe, it was, as I would like to think, that there was tremendous interest in seeing a masterwork by a great American artist. Either way there were people, lots of people waiting for their turn to view the painting.
The line moved slowly in a kind of reverential prayer and when it was my turn I stepped up in front of the painting to gaze with wonder not only at the power of the image but also the incredible finesse of the brush work. Something in my young heart was deeply moved. At that moment I made a commitment to art. I made my pledge to become an artist. That an image could have such an incredible impact on me and the people who had come to the museum was something that I too wanted to accomplish. On that day, at age twelve, I knew that I wanted to do something that would make a difference—to make art that would shine a light on injustice in the world. (more…)